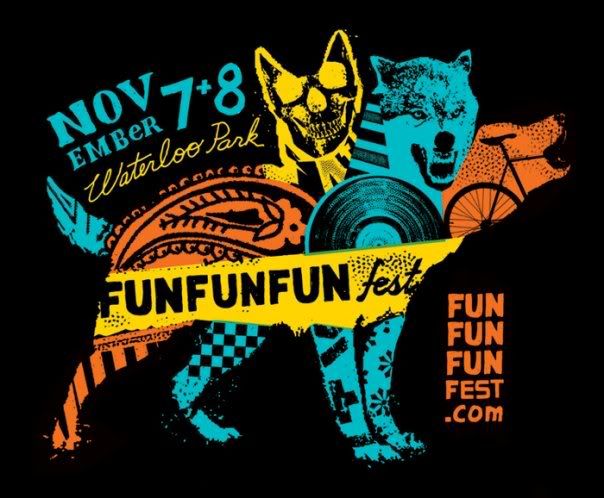 'NITES and Double Stereo teamed up for Fun Fun Fun Fest coverage, which included tons of live photos and back-stage interviews. Most of these were uploaded the same day, but I'm just now getting to posting them here. These are the Saturday interviews. Sunday stuff coming soon....
The Sword (part 1, part 2, part 3) is one of Austin's premier metal bands (maybe the hottest currently on the scene). Coincidentally, Double Stereo blog editor Ian Morales went to high school in Round Rock, Texas, with the band's bassist, Bryan Richie. In this odd and entertaining interviewing, the two old chums reminisce about life in Round Rock and talk about Richie's high school band, a ska-punk band called Skate Or Die. In part 2, they talk about message board hate and getting to tour with Metallica, including the band's first experience with Lars Ulrich. Part 3 covers the band's future plans, including a new album in 2010.
Next, Ian talks to Dead Confederate (click here), the Athens, Georgia, rockers. We talk about the band's future plans and why they didn't release a DVD out of all the tour footage they shot (they were drunk the whole time). We also talk about their affinity for Austin ("It's our second home"). We also take on the rumor that Glenn Danzig travels on a black, fire-breathing dragon.
Meanwhile, Ajay interviewed two instrumental post-rock bands about why the label "post-rock" sucks. Russian Circles (click here) think if they had a screamer for a vocalist, they'd be in Alternative Press. But their lack of vocals gets them labeled post-rock. Russian Circles tells us about their new album Geneva, which came out just a few weeks ago. They also say they'd like to score a film someday. Red Sparowes (click here) tells us about their upcoming album, expected to be released in early 2010.
________________________________________________________________
'NITES, A Blog For Austinites :: Supporting local live music in Austin, Texas :: nitesblog.com