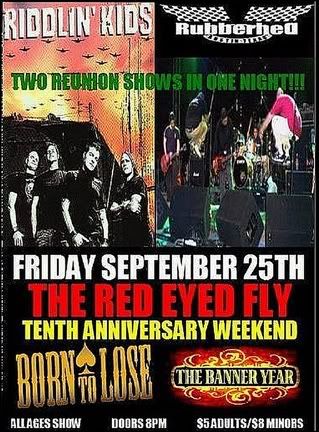 I
measure Austin music venues in dog years, given the high turnover rate. So 10 years is like an old reliable hound for a local rock bar. And in a way, that's exactly what Red Eyed Fly is for the Red River district. The Fly might not be the newest or hippest venue on the block, but it's always been there as a place for up-and-coming bands to play and get better. Especially with the recent closure of Room 710 (it lasted just shy of 10 years itself), Austin's harder and heavier bands have fewer places to play. That makes this weekend that much more poignant. This is Red Eyed Fly's 10th anniversary weekend, and they've pulled out all the stops, reuniting two defunct but greatly missed pop-punk bands: Riddlin' Kids and Rubberhed. Both bands co-headline tonight at the Fly. That's where I'm gonna be. The show is all ages and cover is $5. The music starts at 9 with openers The Banner Year and Born To Lose.
Check out this music video for Riddlin' Kids's song "Stop The World" below. This song was all over the radio when I moved here in 2004. Reminds me of being a UT newcomer and exploring this city. Good times.
That was the official, record-label-approved video. For the director's cut, and version the band intended, click
here
.
________________________________________________________________
'NITES, A Blog For Austinites :: Supporting local live music in Austin, Texas :: nitesblog.com