Friday.
D
on't get me wrong: Any excuse for drinks and live music is a good one. But calling your showcase a back-to-school party a month after school already started seems kinda... late. But
KVRX
, the UT college radio station, is welcoming everyone back four weeks later with a great showcase of Texas music tonight at
Mohawk
. Show starts at 10 and features Austin bands The Eastern Sea (featured mp3 of the day
here
) and No Mas Bodas. The Eastern Sea is really good live, especially if you're into subtle yet upbeat indie-pop. They recently played an INsite Night showcase at The Parish and turned quite a few heads. And No Mas Bodas always brings the weirdness with their minimal beats and random sprinkles of horns and strings.
Over at
Hole In The Wall
, we have a live set by
The Great Nostalgic
, the folky and angsty indie-rock project of Abram Shook (formerly of The Laughing). The Great Nostalgic's self-titled debut is one of my favorite Austin albums of the year. Read my review
here
. The '90s alt-rock-influenced
Frantic Clam
is also on the bill. Frantic Clam recently played the UT Back to School Fest at the Hole. I haven't dug too deeply into this band's music, but I know they wrote a song about Sasha Grey, perhaps the most popular pornstar of the past two years. That's enough to get my attention! Check out this live video I shot of them performing the song at, ahem, the Hole. Show starts at 10 tonight.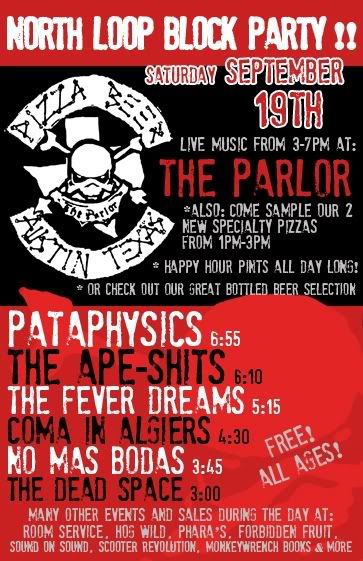 Saturday.
Then on Saturday, the Parlor on North Loop is throwing a day-time block party with pizza and live music. Sample two new specialty pizzas from 1 to 3 in the afternoon. Music starts at 3 and goes to 8. If you haven't eaten at the Parlor, you don't know what you're missing. Jasmine's Hawaiian is probably my favorite. I'm a fan of the ham and pineapple.
This block party will be your second chance of the weekend to catch No Mas Bodas (hardest-working ladies in Austin show business?). Progressive-rockers The Fever Dreams also play, as well as a whole host of like-minded weird Austin bands. Local vendors will be selling stuff all day, as well. Sounds like a fun Saturday afternoon.
Then, the new-wave freaks come out at night. The Black and White Years play their EP release party at Mohawk to celebrate the recent release of their new EP
Nursery Myths
. This band gets lots of play on local radio and won an Austin Music Award last year. Opening the show is the Smiths-influenced post-punk of MoTel Aviv. Get more details about the show at Do512
here
. Watch a video I shot of The Black and White Years at Emo's last month...
If you're in a more straightforward pop-rock mood, local heroes What Made Milwaukee Famous will be over at Antone's with Quiet Company and The Laughing. A great local showcase. Get details at Do512
here
.
________________________________________________________________
Please consider making a small donation or sharing my content with others. Click below.