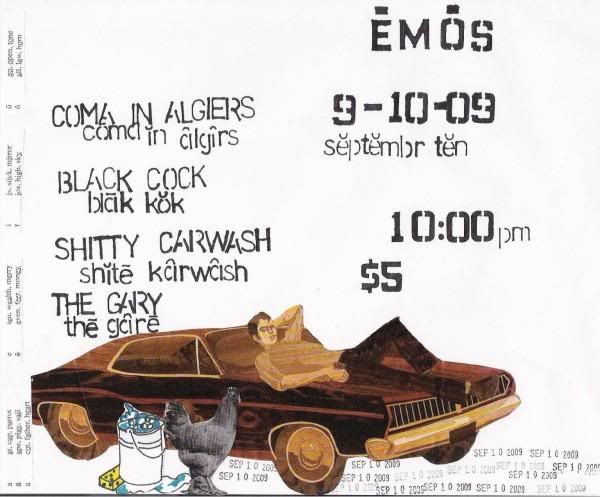 G
otta give it to those poster-makers. They can sometimes be a cheeky bunch. But, then, what do you do as designer when someone hands you a lineup this absurd? You run with it, trying to make something that incorporates all the band names, while embracing the absurdness along the way.
What you should know about the show: The music will be good. Weird, but good. But even if you're not into it, you might wanna go for the subversive pleasure of telling your coworkers the next day that you went to Emo's and saw Black Cock, Shitty Carwash, The Gary, and Coma In Algiers. This show wins the award for most hilarious collection of band names to play on one bill. Props to Black Cock's friend Michelle for making a poster that features a man (presumably named Gary) with his eyes closed (presumably in a coma... an Algerian coma?) lying on a brown car (presumably shitty) while a dark rooster (you can guess that one) and a soapy bucket of water (carwash!) sit next to the dirty vehicle. She had her work cut out for her, and she came through with a subtly absurd poster that catches my eye if I see it posted in a bar or pizza joint.
Get details about the show at Do512
here
. Coma in Algiers can be found on MySpace
here
, and Black Cock's MySpace profile is
here
.
________________________________________________________________
Please consider making a small donation or sharing my content with others. Click below.