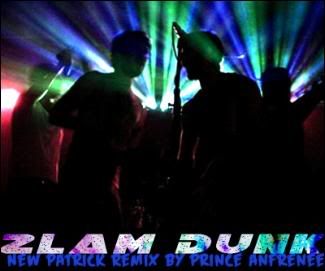 "N
ow it's just sort of awkward," a member of Zlam Dunk said in an e-mail, just days after the dance-punk quintet mailed me a copy of their new EP. "One of the songs is about Patrick Swayze. Being a ghost. And he just died."
Everything about the band, from the basketball-themed band name to the tough-guy nicknames (Ross "The Boss" Bennett, Taylor "Refuse to Lose") to the fact that they've got a song about the movie
Top Gun
, suggests a bro-ish jock aesthetic. It follows, then, that you'd expect a song about Swayze to be completely mocking in tone. But you'd be wrong.
See, the guys in Zlam Dunk are more geek than jock. From the name to the nicknames to the silly song subjects, they're just having fun but they're not making fun (and they're not being ironic). Zlam is hard to define, but I would say this band is always sincere yet rarely serious.
When you listen to their song "Patrick" you wouldn't even know it's about Swayze's 1990 romantic drama
Ghost
. In fact, it sounds like a dark yet uplifting mashup of post-punk and electronica influences. For the song's first minute, we get a pulsating synth and thick bass strums, followed by hopeful lyrics introducing the subject matter:
I'm here, but you can't see. And I swear, just believe me. Everything will be alright.
Only a band as alternatingly silly and sincere could manage to adapt a corny Hollywood movie into a piece of rock music with lyrical and musical depth. Listen to "Patrick" from the band's EP
We Are All Dead
below. I've also got an exclusive remix fresh off the Macbook presses. A San Marcos DJ, Prince Anfernee, remixed "Patrick" in honor of the late actor. Check that out below as well.
Zlam Dunk plays this Sunday at Emo's. It's an early show. Get details from the poster above.
"Patrick" original version
"PATRICK" (ORIGINAL VERSION)
Download:
Zlam-Patrick.mp3
(right-click, save as)
"PATRICK (PRINCE ANFERNEE REMIX)"
Download:
Zlam-PatrickRemix.m4a
(right-click, save as)
MySpace
:
myspace.com/zlamband
________________________________________________________________
Please consider making a small donation or sharing my content with others. Click below.