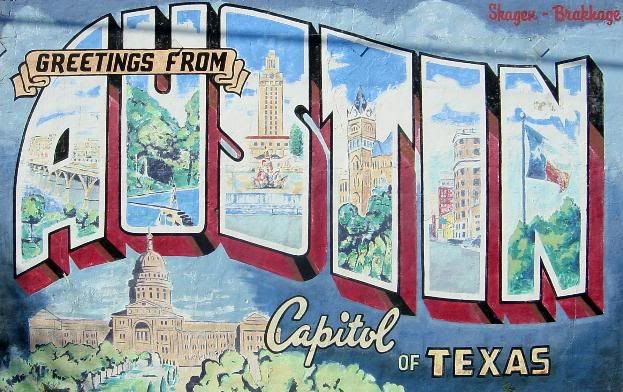 T
he great thing about having so many music venues in this city is that it makes Austin an attractive home base for talented bands to hone their chops, as well as serving as an ideal stop for touring bands from around the world. A lot of the time, these two factors come together and the locals open for bigger touring acts. So with that, I've decided to highlight three such shows. Get to know your local openers!
TONIGHT
: Sian Alice Group with locals My Education and The Boxing Lesson
THURSDAY
: Killola with locals Girl in a Coma and Your Kisses Cause Crashes
FRIDAY
: Rob Dickinson with locals STEREO IS A LIE and Buttercup **
** Want to get into this show for free? 'NITES is giving away a guest list spot and +1 for Rob Dickinson at Mixx. You and a friend can get in free. How? Just be the first person to tweet a link to this blog post on Twitter and tell people to check out @nites. That's it!
Opening tonight at Mohawk for the U.K.'s Sian Alice Group, we have indie space rockers The Boxing Lesson (featured today in the weekly INsite Night video
here
) and the ambient and symphonic post-rock of My Education. These two local bands are a perfect fit for Sian Alice Group's mix of celestial post-rock and ambient textures. Check out this video below of My Education doing their thing at Emo's. Get details on tonight's show at Do512
here
.
Then on Thursday, the Los Angeles female-fronted power rock quartet Killola swings through Emo's with local support from San Antonio's Girl in a Coma and Austin's Your Kisses Cause Crashes. Girl in a Coma is proof that there's more to San Antonio than Tejano groups and metal bands. There's some really cool indie and punkish stuff going on down there too. Watch a live video of Girl in a Coma below. Check out the show details at Do512
here
.
Then on Friday night, downtown Austin's newest rock venue Mixx is bringing in Rob Dickinson of the popular '90s alternative band Catherine Wheel. Opening up for the singer-songwriter from England is STEREO IS A LIE, one of Austin's best kept rock secrets. STEREO IS A LIE is chocked full of good ol' fashioned rock 'n roll bravado, with the songwriting and performing credentials to back it up. Meanwhile, San Antonio's Buttercup brings its offbeat yet uplifting pop songs to the table. Watch a video of STEREO IS A LIE from earlier this year below. Get details for this show at Do512
here
. Remember
you can win a pair of guest list spots
to this show by tweeting a link to this blog post on Twitter with a mention of @nites.
Related links:
Sian Alice Group
on
MySpace
Killola
on
MySpace
Rob Dickinson
on
MySpace
________________________________________________________________
'NITES, A Blog For Austinites :: Supporting local live music in Austin, Texas :: nitesblog.com