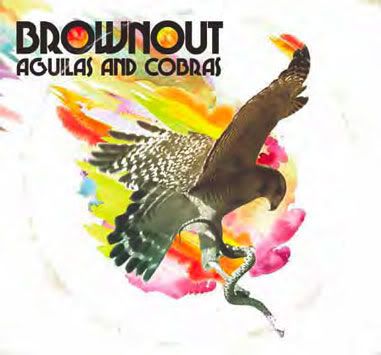 T
he story behind the title of Brownout's new album
Aguilas and Cobras
, as band leader Adrian Quesada explains it, begins with guitarist Beto Martinez entering the studio one day during mixing. When he heard the fierce guitar licks and frantically aggressive horns, Martinez said, "Wow. That sounds like
aguilas
and cobras, and shit." For obvious reasons, the last third of that expression was left off, but
aguilas
(Spanish for "eagles") and cobras had a nice ring to it, and it stuck.
I can't think of a more apt title for this leaner-and-meaner-sounding Brownout. There's an undeniable urgency and aggression infused within the dance-ready, 1970s-inspired Latin funk that spans these 15 tracks. From the punchy bass lines and aggressive horns of the title track to the dark seduction of "Tell Her She's Lovely", this album keeps things fresh and fast at all times. No worries of a sophomore slump here, as this album is more cohesive and energetic than their impressive debut album
Homenaje
.
Read the full review at Austin Vida:
Click here.
________________________________________________________________
Please consider making a small donation or sharing my content with others. Click below.