T
he local music blog Austin Town Hall recently published its list of the top-five music venues in town
here
. I agreed with some of it, but my disagreements led me to contemplate my own top-five. Read my rebuttal to the list
here
. Ideally, I'd like all Austin music blogs to publish a top-five list. Thanks to Town Hall for being the first. I think we all have a lot to learn from each other. I like to read local dance-music blogs and hip-hop blogs, and I'm pretty sure they have totally different opinions of music venues than a Red River rat like me. And somebody's gotta stick up for SoCo or the Warehouse District, right? Anyway, here's my top-five....
5. Red 7
is supremely underrated. Maybe it's because they cater to genres of music that don't get much media coverage in town (metal, punk, and all things -core). I just don't know. The sound is LOUD. Always be sure to bring an extra pair of earplugs. Red 7's indoor hangout area, known as the Wreck Room (get it?), is really chill and has everything you need to have a fun time while you're waiting for bands to set up on the outside stage: pool tables, skee ball, arcade machines, and diner-style booths for sitting and chatting. Unfortunately, I usually only see the place full for underground punk and metal shows. While Red 7 does feature indie-rock showcases, those shows are often embarrassingly empty because of the indie community's unwillingness to give this place a shot. I'd like to see that change. Visit Red 7 on
MySpace
.
4. Creekside Live
is still relatively unknown as a music venue. Don't confuse Creekside Live (the music venue) with Creekside Lounge (the uber-hipster bar). They're next-door to each other and they're owned by the same folks, but the two establishments have totally different vibes. Creekside Live has been a music venue for less than two years, but it's already been home to some of my favorite shows: The Latin funk group
Brownout
played two sets in one night here back in June.
The Diamond Center
, Lubbock's psychedelic darlings, blew my mind with their odd live set up (no drum kit, but two percussionists... and a cute female lead singer with a feather in her hair and moccasin boots like Pocahontas). I've also seen local stoner-rock legends
Tia Carrera
tear the place up. And
Built By Snow
and
Canopy
both played a
101x Homegrown Live
showcase here. A venue that can get down with Latin, punk, psychedelia, metal, and indie-pop is worth your attention (plus, a tallboy of
Lone Star
goes for $2). I just wish this place had a better online presence. The Lounge has a
MySpace
page, but the venue itself doesn't have. That needs to change.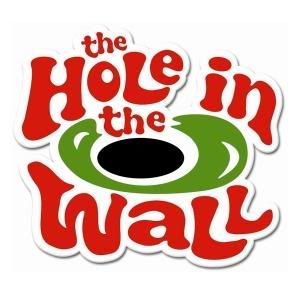 3. Hole In The Wall
holds more personal memories for me than any other venue. I crowd-surfed at a
Bankrupt and the Borrowers
show here. No kidding. Crowd-surfing in a bar! But why should it be considered a great venue? Town Hall said it best: the sound isn't great, but the Hole keeps the local music scene alive and fresh because of their willingness to support and cultivate talented local musicians. I've seen everything from country to blues to indie to punk on the Hole's three stages. If you want the best (and sometimes weirdest) local music, this is the place to be. Oh, and the beer and liquor selection is awesome... and awesomely inexpensive. Check out show listings on the Hole's
MySpace
profile.
2. Emo's
has no doubt lost a lot of touring acts to The Mohawk, but when it comes to local shows it's still hard to beat the indoor stage at this storied venue. They still give fresh experimental bands a shot, and they don't have much (if any) genre bias. I saw
Neiliyo
and his funktronic one-man show getting down on a Saturday-night headlining spot once. Amazing psychedelic bands like
Prayer For Animals
and
The Astronaut Suit
have played there several times. And I've seen one of my favorite local bands,
Haunting Oboe Music
, evolve from a sextet to a quintet and back over the course of two years at this venue. It's also the first place I ever saw
Ume
, who seem to be the center of attention on the local blogosphere lately. When people say Austin is a training ground for young and talented indie bands to grow as musicians and prove themselves before a cynical audience, they're talking about the indoor stage at Emo's. Check out the official Emo's Austin
website
for show dates.

1. The Mohawk
is the best place to see a rock show in this city, for multiple reasons. For me, a venue has to be fun to hang out at. There's lots of downtime between bands, so I have to be able to do something. The Mohawk has plenty of nooks and crannies to explore. You can sit on leather couches behind the main stage or you can hang out on the deck overlooking the stage (and all of Red River). The Green Room is a nice little spot to sit and talk. And the Grizzly Bar has High Life for $2. The outdoor sound system recently got a nice upgrade, and the sound engineers here know what they're doing. At so many venues, it feels like the sound guy is just dicking around with the soundboard, hoping he gets it halfway right. The sound people at Mohawk, on the other hand, are precise and know their shit. That helps when you're seeing loud bands like
The Sword
or
Ringo Deathstarr
and melodic acts like
The Lemurs
or
Amy Cook
. Some of the best local bands play the indoor stage regularly, and some of the best touring acts stop by to play the outside stage. Hip hop, indie rock, or electronic artists... It doesn't matter. Check out The Mohawk's
official website
.
Now that you know what I think, how say you? Did I snub anyone? Is my order all off? I'd like to hear your top five. Cheers!
________________________________________________________________
Please consider making a small donation or sharing my content with others. Click below.