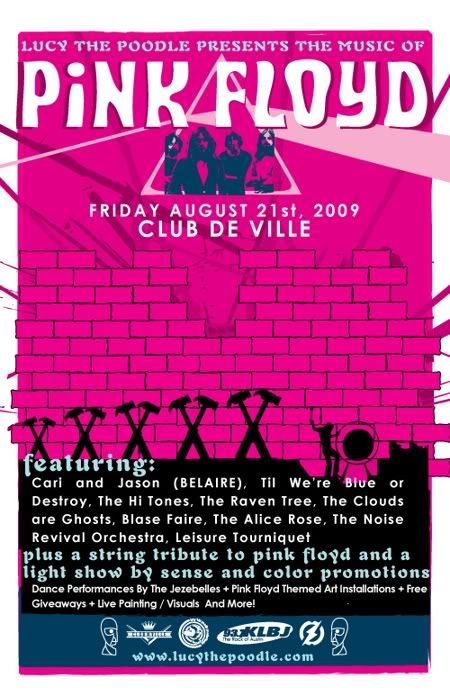 T
onight at Club de Ville, experience the psychedelic sounds of Pink Floyd, as interpreted by some of Austin's most talented musicians. The production company Lucy The Poodle, known for throwing various themed parties around town, is hosting its first tribute show, titled "The Music of Pink Floyd". The show kicks off at 8 with a live string tribute led by members of Death Is Not A Joyride. Nine bands on two stages for $7 ($10 for under 21). Not bad at all, if you ask me. The bands will be covering Pink Floyd songs from the Syd Barret era to
The Wall
, and everything in between. The bands scheduled to play include Til We're Blue or Destroy, The Alice Rose, The Hi Tones, The Raven Tree, The Clouds Are Ghosts, Blase Faire, The Noise Revival Orchestra, members of Belaire, and Leisure Tourniquet (featuring members of My Education, Many Birthdays, and The Great Nostalgic). The night ends with an outdoor projector screening of Dark Side of Oz, the cult classic that involves sinking Pink Floyd's classic
Dark Side of the Moon
to the film
The Wizard of Oz
. Shit like this is why I love Austin, frankly. Visit Lucy The Poodle on
MySpace
.
SATURDAY
On Saturday, The Mohawk is hosting a very special show. Local music photographer and all-around cool dude Aasim Syed is throwing a big birthday bash on both Mohawk stages, featuring some great local bands: Ume, Brothers & Sisters, Ringo Deathstarr, Kingdom of Suicide Lovers, and more. The show starts at 7, so don't slack. Harlem, recently announced as a Fun Fun Fun Fest band, is also playing. Check out this Harlem live video I shot a couple months ago...
SUNDAY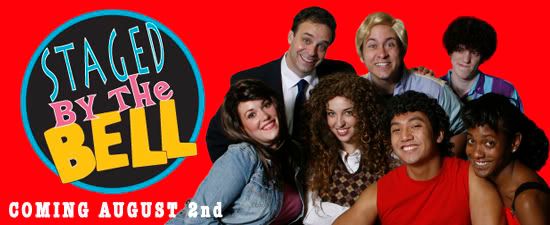 And last, but not least, the U.S. Art Authority (on Guadalupe, next to Spider House) is hosting the weirdest god-damned thing I've ever seen: a live stage performance of
Saved By The Bell
. It's called
Staged By The Bell
and it started on August 2, but this Sunday is the last of the current run. The cast (pictured above) will be performing the episode where Jessie Spano gets addicted to caffeine pills in her pursuit of being a better student.
Staged
is staying true to the episode, but if they really wanted to get 2000s with it, Jesse would totally be an Aderall fiend. Read more about
Staged
on
Do512
. Here's a clip from that infamous episode...