T
onight, the Austin Decider is throwing a local showcase featuring some of the Red River scene's hottest up-and-coming bands. It's not often that a mostly local bill with a local headliner gets to take over the outside stage at Emo's on a Friday night, but this bill merits the prime placement: The Black and White Years, The White White Lights, and Built By Snow (plus, Cincinnati's Bad Veins). It's like the Red River hipster all-star game.
The Black and White Years have become darlings of the scene, winning an Austin Music Award for best new band and working on their album with Jerry Harrison of the new-wave legends Talking Heads. Check out the ridiculous and addicting music video for the song "Zeroes and Ones" below. The piano-driven glam rock of The White White Lights and the synthy nerd rock of Built By Snow will also be on display. The White White Lights have been steadily raising their profile with impressive opening slots for touring indie acts, while Built By Snow is getting lots of buzz this year after releasing one of the catchiest Austin albums of 2009. Read more about the show at
Do512
.
SATURDAY
If you feel the need to get the party started at 2 in the afternoon this Saturday, then get your ass to Hole In The Wall, across the street from the University of Texas campus. There's a big all-day bash called the Back to School Fest going on, and it features a slew of fun and poppy bands from Austin, Dallas, Houston, and beyond, along with DJs and cheap drinks. Read about it
here
.
And if you're looking for something a little more slick and seductive than the indie piano-pop you'll encounter at the Hole, then check out the Brit-rock-influenced, arena-ready sounds of STEREO IS A LIE at La Zona Rosa. This band debuted last November, and they were ready for prime time then. They've only gotten better. Read about the show at
Do512
. Check out this video I shot earlier this year....
SUNDAY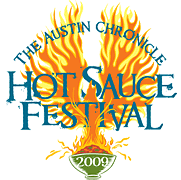 Austin is fast approaching its record for most 100-degree days in a year, so what better way to celebrate than to stand out in the August sun and eat hot sauce! Snarkiness aside, this event actually has some fun musical acts lined up: the soulful dance tunes of T-Bird & the Breaks and the grandiose folk ballads of The Tiny Tin Hearts, to name a couple. More than a hundred gallons of hot sauce are consumed by about 15,000 patrons every year at this Austin Chronicle-sponsored event. The festival takes place on Sunday from 11am to 5:30 in the afternoon at Waterloo Park. Admission is free with a donation of three non-perishable food items (canned foods, basically). Just make sure to bring the sunscreen and your toughest salsa-eating game face.
________________________________________________________________
Please consider making a small donation or sharing my content with others. Click below.