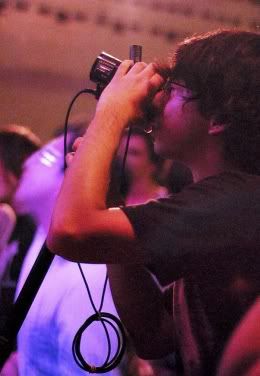 T
he Daily Texan, the official newspaper at the University of Texas, recently interviewed me and took photos for a story about this blog. The story was published today in the Texan's Life & Arts section.
Click here
to read the story.
Here's an excerpt:
Amid the fog of cigarette smoke and the reverb-heavy cacophony of a show at one of the indie rock haunts along Red River, it's rare that you won't find a certain young man with short black hair, square rimmed glasses, assertive eyes and the most conspicuous of accessories: a video camera.

His camera comes without credentials from a major music publication, and yet he is rarely interrupted as he strolls into shows and festivals.

This young man is Ajay Miranda, and over the past year he has blogged his way from struggling peon in the world of news reporting to burgeoning videographer and tastemaker in the Austin music world.
I have to say, I'd consider my black hair to be pretty shaggy at this point. Bangs that reach down to your nose isn't short by dude standards, I don't think. Anyway, thanks to Mary Lingwall for coming to me with the idea. Full disclosure: I was a Daily Texan news editor two years ago, but I believe Mary started there after I graduated.
Thanks, everyone, for reading this blog and making it worthy of local media attention. I keep track of my visitor stats, and this blog's readership has grown rapidly in the past three months. When I started this thing last fall, it felt like I was shouting into a vast abyss. It's good to know that people actually read this damn thing now. Good times, y'all.
Keep reading, and I'll keep posting videos, reviews, mp3s, show listings, and whatever warped thoughts come to my mind about current events in our fine city.
________________________________________________________________
Please consider making a small donation or sharing my content with others. Click below.