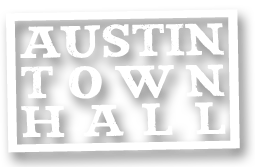 I
love a good local best-of list, so it should be noted that Austin Town Hall recently published its picks for top-five music venues in Austin. In the spirit of community-wide debate, I've decided to rebut Town Hall's list and also make my own list.
This is Town Hall's top-five (which you can read about
here
): Emo's outdoor (5th place), Hole In The Wall (4th), Stubb's Waller Creek Amphitheater (3rd), The Parish (2nd), and The Mohawk outdoor (1st).
You can check out my top-five
here
, but first and foremost, my rebuttal....
First, a positive observation: I was pleasantly surprised by the inclusion of
Hole In The Wall
. I love that place and call it my regular hangout. Good for Town Hall for including it; I honestly thought the place wasn't cool enough for the indie blogs. I've discovered some of my favorite local bands and made some good friends at the Hole, and I'm even co-sponsoring a big all-day show there next week (
read more
). This place has the friendliest bartenders. Unlike in downtown clubs, where bartenders can be a bit rude and socially retarded, the bartenders at the Hole have a real neighborhood-bar vibe about them. As far as music, drunkenly dancing to
Clyde & Clem's Whiskey Business
and their washboard bluegrass tunes on a Tuesday night is an Austinite rite of passage. And the raw and gritty delta blues of
Best Love In Town
was a revelation the first time I witnessed it at the Hole. Glad I'm not the only one who holds this place in high regard.
Now, onto my negative criticisms of the list....
I'll never stop ranting about this to anyone who will listen: The outdoor stage at
Stubb's
is one of my least-favorite places to see a show in Austin, and I don't know why everyone loves it and goes ga-ga over it. The place has no viewing angles, which means unless you're in the front three or four rows (or you're Yao Ming), you won't be able to see anything but the back of a sweaty frat boy's head at your sold-out
Kid Cudi
concert. Because of its narrow, rectangular setup, only about a fifth of the people can comfortably see the stage. Stubb's should put up a couple of jumbo screens to help the situation. They can probably afford it, considering that ticket and beer prices are so ridiculous (
Lone Star
has no business costing $4 per can; I can get a pint of Arrogant Bastard for $5 at Hole In The Wall, and that's one of the greatest beers ever). For a big venue, width is more important than length (hold your "That's what she said" jokes, please). Plus, the lack of air or circulation makes a summertime Stubb's concert miserable. Ask anyone who was at
Explosions In The Sky
last month. And there's nowhere to hang out in between bands. I prefer
Austin Music Hall
for concerts of this size.
Muse
and
The Mars Volta
were excellent at the Hall, and I'm glad I didn't have to go to Stubb's to see them. Stubb's would be awesome for raves and big parties, but it sucks for rock concerts.
And I can't believe
The Parish
would be in anyone's top-five. The sound is awesome, but the club itself is lifeless. It has no personality. It feels like a museum in there, but without the culture. My respect to anyone who wants to try to change that, but as of right now The Parish is just another Sixth Street club: great sound and no soul. Bringing in lots of indie flavor-of-the-month bands doesn't change that for me.
Okay. Enough bitching.
Check out my top-five Austin venues here
.
Related Links
* Best Love In Town on
MySpace
* Clyde & Clem's Whiskey Business on
MySpace
* Explosions In The Sky on
MySpace
________________________________________________________________
Please consider making a small donation or sharing my content with others. Click below.