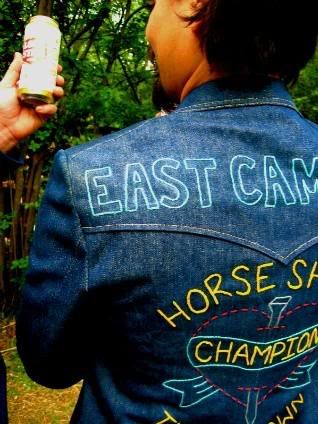 W
ithout a doubt, my favorite scene in Austin is East Cameron. I hate to even use the word "scene" because this is more of a family -- a bunch of talented yet easygoing musicians living in a working-class neighborhood in northeast Austin. When you have so many musicians living in close proximity, it's natural that they'd collaborate and cross-pollinate, musically speaking. These guys come from different backgrounds: punk, country, blues, psychedelia, and folk. But they all come together and blend these influences seamlessly. A bill with grunge-blues rockers Bankrupt and the Borrowers never feels out of place with the punk-country of The Bread or the '60 garage-psych of Bridge Farmers. Together, these and other bands (including The Van Buren Boys, Clyde & Clem's Whiskey Business, and more) form the East Cameron Folkcore, a group that has coalesced behind Jesse Moore, the gravelly voiced songwriter known as Cadger when he's on stage with Bankrupt and the Borrowers.
Tonight,
Jesse Moore & the East Cameron Folkcore
play their regular spot, the Hole In The Wall near the UT campus. They kick the show off at 10, followed by The Bread. Then, like-minded folk-punk Bob Showdown closes the show. It's Bob Showdown's CD release party, the first of a few involving East Cameron artists in the coming months. Come on out and have a drink.
Watch videos below of the Folkcore performing an original called "Doctor's Orders" and The Bread's Denis O'Donnell preforming a solo rendition of his band's sing-along-friendly song "Taxman".
________________________________________________________________
Please consider making a small donation or sharing my content with others. Click below.