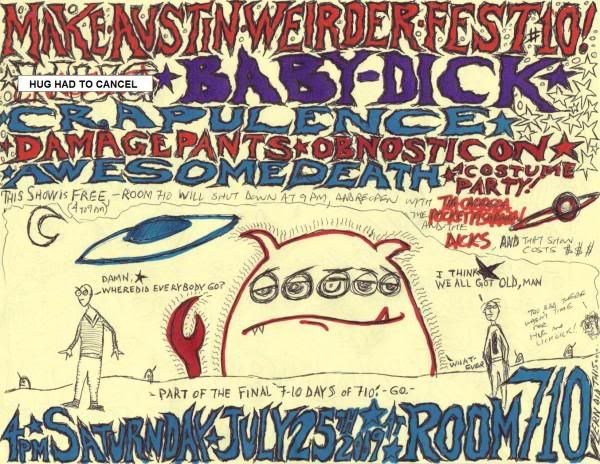 T
oday is an action-packed day for Room 710, the storied Red River rock venue that's shuttering its doors after August 2. The live music kicks off at 3 this afternoon with the tenth installment of the Make Austin Weirder Fest. It is what it sounds like: an eclectic assortment of Austin's loudest, weirdest, and head-scratching-est bands. Former 'NITES featured band
Like Dogs
played the last one, just to give you an idea. The fest goes from 3 to 8. On tap for today: Babydick, Crapulence, Obnosticon, Damage Pants, and Awesome Death.
I saw
Damage Pants
last night at Trailer Space Records and GOD DAMN were they amazing. They sound like if you took early Queens of the Stone Age's rhythm section and gave them a bag of crack and a distorted bass guitar and said, "Here, smoke this, then play this LOUD." It's hard to believe two dudes can be that loud.
The other bands have no trouble bringing the weird either. How about
Awesome Death
and
Crapulence
showing that
The Octopus Project
doesn't have an unchallenged claim to freaky theremin sounds in Austin. Although the vocals take getting used to where both bands are concerned. And I still don't know what to call Babydick's music. It's weirder than their band name. So just a fair warning: This music is NOT for everyone. But if you're feeling adventurous and open-minded, head to 710 this afternoon.
A late show starts at 10 tonight. More than any band at 710, Tia Carrera really set the tone of what the venue was going to be when they won a gong show contest there almost a decade ago. Their 20-minute stoner-rock jams are a sight to behold. They play 710 for the last time tonight, followed by headliners The Dicks.
Here's a video I shot of
Tia Carrera
at Creekside last year. And be sure to check out the remaining 710 show dates on their
calendar
.
________________________________________________________________
Please consider making a small donation or sharing my content with others. Click below.