Bands are constantly coming and going in Austin. Sometimes, they break up. Sometimes they just change names (several times). I started filming bands exactly a year ago, so I thought it would be nice to do a "where are they now?" sort of segment. All this week, I'll bring you a video I shot in July 2008 along with an update on the band. And stick around, because next week 'NITES returns from a summer break with all new videos of the best local bands.
Dans La Lune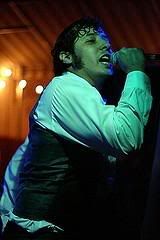 W
hat's in a name? Not stability, if you're
Dans La Lune
. Right around SXSW 2009, the garage-rock quintet decided to change their name to
The Minx Reaction
. The new name received a mixed reaction, and about a month later they cut it short to
The Reaction
. The name lasted a couple months before the band received some choice words from a San Francisco punk band with the same name. Wanting to avoid any legal hassle, the band changed their name again last week. The artists formerly known as Dans La Lune are now
The Hi-Tones
. The name is a nod to Frankie Valli, says lead singer Johnny Flores. Not a bad name, but a cursory search on Google reveals Rebecca & the Hi-Tones in North Carolina, Michael Tracey & the Hi-Tones in Oregon, and Duke Sedan & the Hi-Tones in Canada. Oh, boy.
The Hi-Tones are currently recording their debut EP. Check 'em out on
MySpace
.
________________________________________________________________
Please consider making a small donation or sharing my content with others. Click below.