Scorpio Rising @ Club 1808 [Sat. July 4]
This poster looks like a Fourth of July mushroom trip on the beach (not a bad idea, by the way), what with the vivid, strong colors and the fireworks that look almost lava-lampish. Our grotesque model holds a freak flag in one hand and a different kind of poll in the other. The show features the self-proclaimed millennium disco rockers,
Scorpio Rising
, a trio whose catchy beats, funky guitars, and Cyndi Lauper-esque vocals should make for a fun Fourth. The party goes down at Club 1808, one of the Eastside's little music gems. Also, according to the poster: free food and a wet t-shirt contest. It's the American way! Check out more Mad Rooster's artwork and posters
here
.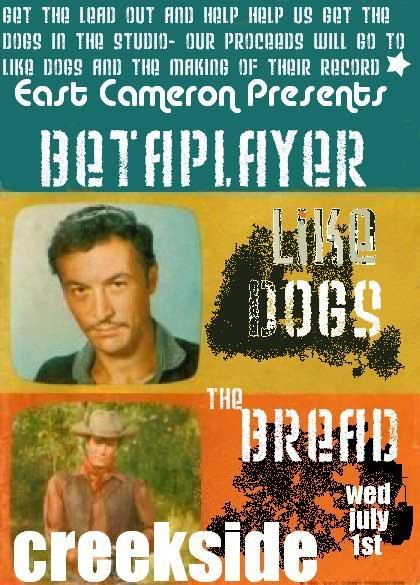 Betaplayer, Like Dogs
@ Creekside [Wed. July 1]
Before the Fourth, you've got some other Austin-weird options. I'm not choosing this poster because I think it's particularly well-designed. This poster is kinda absurd and cheesy as hell (in a good way). The show delivers an awesome all-local lineup for a good cause. It's not charity (not exactly). But
East Cameron
, a music collective and budding record label, has been putting on some really cool events to raise money for their artists' recording costs. This show, featuring hip-hop cool kids Betaplayer, is a fundraiser for Like Dogs, an inexplicable drums-bass-vocals combo that was featured in a 'NITES
video
a couple months ago. Frankly, I want to hear a new album from these guys as quickly as possible, so go out and spend some dollars on a sweet all-local bill. Also playing:
The Bread
, with their folk-punk, country-crunk musical musings about class struggle and economic inequality.
View
previous
Poster of the Week entries.
________________________________________________________________
Please consider making a small donation or sharing my content with others. Click below.