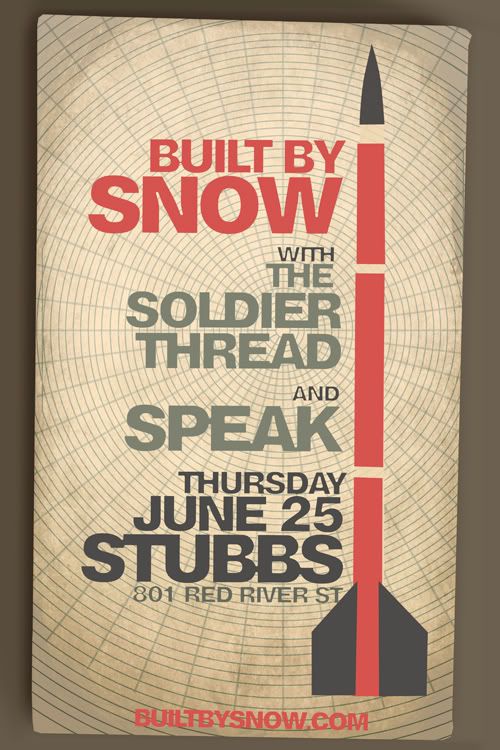 Built By Snow @ Stubb's BBQ [Thurs. June 25]
This poster was inspired by those 1950s how-to-build-your-own-rocket manuals, which fits
Built By Snow's
fun and retro sci-fi nerd-rock aesthetic. This is a band that you can't help but enjoy live. Their uninhibited stage presence, easygoing demeanor, and quirky between-song banter is a hard-to-beat combo. They also play a healthy amount of shows. You have two chances to catch the quartet in July locally if you miss 'em at Stubb's.
Muchos Backflips! @ Room 710 [Sat. June 27]
Room 710 closes its doors for good in August. In the meantime, they've got some pretty kick-ass shows scheduled. This weekend, 710 gives us a show packed with plenty of Austin weirdness. From Opposite Day's new-wave punk stylings to We The Granada's frenetic light show to Muchos Backflips'
what the fuck do you call this music?
music, this show promises to be fantastamabulous, as the Backflip boys would say. A creepy good time, just like the poster.
View
previous
Poster of the Week entries.
________________________________________________________________
Please consider making a small donation or sharing my content with others. Click below.