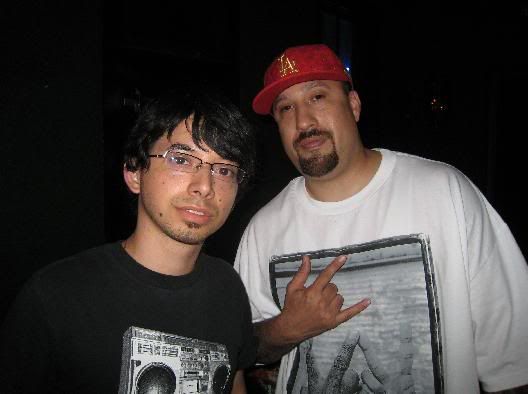 Me and B-Real backstage at Mohawk in this photo by Ian Morales
Y
es, I just quoted Eminem. So sue me (lord knows you wouldn't be the
first
who threatened to).
Yesterday was my birthday. And being the workhorse I am, I spent the evening editing a Pachanga Fest interview video at
Blastro
headquarters and then filming a show for my new BFF website
Austin Vida
.
The show was B-Real and Bizzy Bone on their Unite The Mic Tour. Y'all don't even know. I grew up in small-town California, a town that was about 95% Mexican and we all thought we were little gangstas. Kids in my neighborhood worshiped Cypress Hill. Me, I was more of a Bone Thugs-N-Harmony fan.
E 1999 Eternal
is the first CD I ever bought, so getting to see Bizzy do renditions of "1st of Tha Month" and "Tha Crossroads" was pretty cool, even for someone like me who doesn't usually go for nostalgia acts.
B-Real is bigger in person than how he looks on TV. It's usually the other way around with celebrities. His whole crew was really chill, standup people. They took care of me and Ian (Austin Vida's editor-in-chief), even buying us a round of birthday shots of Patrón. Doing shots of Patrón with B-Real on my birthday, all because of a stupid little music blog that I started last fall when I couldn't get a job. Life is cool like that sometimes.
________________________________________________________________
Please consider making a small donation or sharing my content with others. Click below.