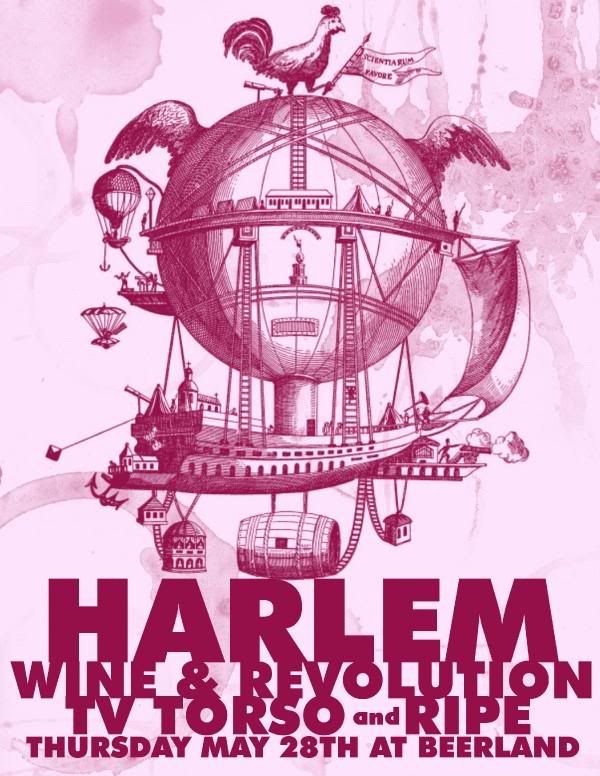 Harlem, Wine & Revolution, and more @ Beerland 5.28.09
N
ote: I sift through dozens of MySpace bulletins and Do512 postings a week in my pursuit of local shows worth attending. And I've noticed something along the way: We have some damn fine poster-makers in Austin. There's some interesting design work and art going on. I also like the DIY aspect of poster-making to promote shows. So I've decided that once a week I'll publish some of my recent favorites.
Tonight at Beerland (above), the drunken don't-sweat-the-small-stuff antics of garage-rock trio
Harlem
will be on display. These dudes put on a fun show with their irreverent, nonchalant attitude and their call-out-a-song-title-and-we'll-play-it approach to live performance. I found the above poster on the MySpace page of
Wine & Revolution
, who take the stage before Harlem. This poster reminds me of a slightly subdued version of a Trail of Dead album cover. Who wouldn't want to live in a large flying ship with canons and tents and a giant flag-waving rooster?
RUNNER-UP
This poster doesn't look like a show poster at all. It looks more like an ad for a sci-fi shoot-em-up video game or a horror movie. I found this poster on the MySpace page of
ToasT
, a funk/afrobeat jam band. The music doesn't really fit the zombie-flick look of the poster, but ToasT does have a pretty sweet cover of Fela Kuti's political protest song "Zombie."
Movingmatter, Grimy Styles, and Toast @ the Parish 5.29.09
________________________________________________________________
Please consider making a small donation or sharing my content with others. Click below.