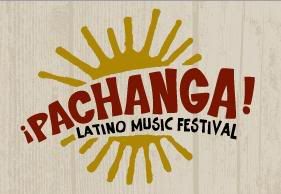 The second annual
Pachanga Latino Music Festival
is this Saturday at Fiesta Gardens in east Austin, and it promises to deliver one of the most musically diverse festivals you're likely to see anywhere in Texas (ACL Fest, that includes you). Just look at the headliners: Latin indie electronica sensation Mexican Institute of Sound (MIS) and '90s norteño music star Michael Salgado. The music starts at noon and will go nonstop for almost 12 hours across three different stages.
I'm personally looking forward to seeing Guatemalan singer-songwriter Gaby Moreno, local Latin jazz outfit El Tule, and of course MIS who is fresh off his head-turning performance at Coachella Fest where he added a full band to his DJ/vocal repertoire. We're also being treated to some rare performances: Ocote Soul Sounds, Maneja Beto, and the Pachanga All-Stars. Ocote is a mellow funk project created by Martin Perna of Brooklyn afrobeat big-band Antibalas and Adrian Quesada of Grupo Fantasma. Perna has been living on the Atlantic coast of Nicaragua all year, so this is a rare US show indeed. And Maneja Beto hasn't played in a year, so it's good to see them on stage again. The Pachanga All-Stars, meanwhile, is a collective assembled for the festival and includes members of Vallejo and other local Latin rock bands.
If you're not familiar with any of the names I mentioned above, tomorrow would be a good chance to get acquainted ($20 for 19 bands). Don't let the "Latin" tag scare you off, either. This is good music, regardless of the language. Plus, being able to say you saw MIS or Brooklyn indie-rockers Cordero will actually help your indie cred, not hurt it.
Okay, enough snide commentary. Here is the schedule from the Pachanga site:
________________________________________________________________
Please consider making a small donation or sharing my content with others. Click below.